SARS-CoV-2 test, antigen (English language) –

Sale

:
SARS-CoV-2 Test Met. Real Time RT-PCR (English language) –

Sale (from 11.10.2021)

:
Quantitative IgG antibody test – SARS-CoV-2 – new
SARS-CoV-2 Test Met. Real Time RT-PCR
Currently, the following methods are recommended for confirmation of SARS-CoV-2 infection are molecular methods that detect the genetic material of the virus (real time RT PCR).
IgG/IgM – SARS-CoV-2 boxed tests
method: immunochromatography – rapid qualitative test
Serologic diagnosis allows the detection of antibodies and may be of value particularly in persons with asymptomatic or mildly symptomatic infections. The presence of antibodies suggests contact of the patient with the virus and the production of antibodies to it by the infected organism.
This test may be performed prior to vaccination to check serum IgG antibody levels in the individual, and after vaccination to check the body's immune response to the vaccine (according to vaccine manufacturers, full immunity will develop in most vaccinated persons 7-14 days after the second dose of the vaccine).
The main aim of the Acellmed is to conduct commercial screening of new drugs to determine their safety and efficacy on human cardiac cells. In our research, we apply Nobel Prize awarded technology – induced pluripotential stem cells (iPSC), differentiated into cardiac cells – cardiomyocytes. Thus we create opportunities to test potential drugs directly on cardiomyocytes of patients as well as on those of healthy individuals. Our technology enables us to detect substances capable of correcting cardiomyocytes defects, which are responsible for many heart conditions. It also allows us to monitor and detect the risks of potential drugs (e.g., oncological) that may be too toxic for cardiac cells and therefore, dangerous for patients.
One of the principal reasons to suspend ongoing research on new therapies is their cardiotoxicity.  Regulations require that novel, and promising therapeutic molecules shall be subjected to the rigoristic toxicity tests using traditional methods in vitro and referential animal models. Those tests, however, do not reflect the reaction of human organism on drugs fully; also, they do not allow on detection of many potentially cardiotoxic substances. Direct application of drugs onto human cardiomyocytes, on the one hand, limits the use of lab animals; on the other – it creates a unique opportunity to select and test proper medications correcting particular cardiomyocytes defects. Directly-applied drugs are, therefore, the base of personalized medicine.
Moreover, Acellmed is developing a technology of "the heart-on-the chip," based on the use of miniaturized micro-circulation systems which will allow on investigating the interaction between different heart cell types, and in the future – also of other organs.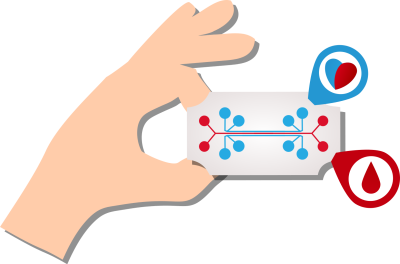 Production line of iPSC and cardiomyocytes
In its research, Acellmed uses human peripheral blood cells (leucocytes), which effectively reprograms into iPSC; afterward, with high efficiency differentiates them into heart cells – cardiomyocytes. Hence we create iPSC bank cells from patients suffering from heart diseases (e.g., genetic primary and secondary cardiomyopathy) and healthy individuals.
Business
Biotechnology, pharmaceutical and cosmetics
Science
Scientists interested in research on IPSC and cells differentiated from iPSC
Healthcare
Health care providers / health care institutions

Products
Complete line of iPSC and cardiomyocytes
Conducting complete of generating iPSC and differentiated cel upon the commission of potential researchers interested in thier application
Research services
Research on the safety and effectiveness of potential drugs: comprehensive studies on the toxicity of selected substances – potential oncological drugs
Tests on drug efficacy in correcting cardiomyocytes defects, caused by functional disorder (as a result of mutations or undergoing oncological therapy)
Research on the safety and effectiveness of potenial drugs:
We offer the industry and health care institutions the toxicity studies, including tests on potential cardiotoxicity of the substances suspected to be an environmental threat
Our offer will enable the scientists and companies researching new drugs, on selecting safer substances, reducing unnecessary costs of preclinical trials; it may accelerate the process of introducing new drugs into the market.