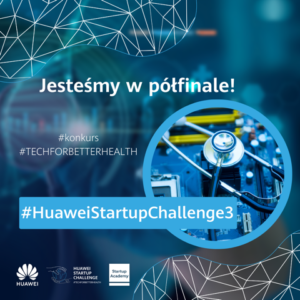 We are pleased to inform you that Acellmed and its corneal project have been noticed in #HuaweiStartupChallenge3, organized by @Huawei Polska and @Startup Academy. After successfully passing the first two stages of the competition, we are among 20 finalists – the best Polish startups (selected out of 168!).
Congrats to other startups who qualified for the third round of the challenge! A grand finale is ahead of us. Together we can revolutionize the Polish #healthtech market, but what is even more important – improve people's health and lives!
The corneal project, entitled "Scaffold for corneal reconstruction using 3D printing and bio-printing" is conducted by Acellmed in cooperation with Silesian Park of Medical Technology Kardio-Med Silesia and experts from Wrocław University of Environmental and Life Sciences and the Medical University of Silesia in Katowice.
The project is co-financed by the European Regional Development Found for the Regional Operational Programme of the Silesia for 204-2020 from Priority Axis I. Modern Economy Measure 1.2 Research, Development and Innovation in Enterprises.